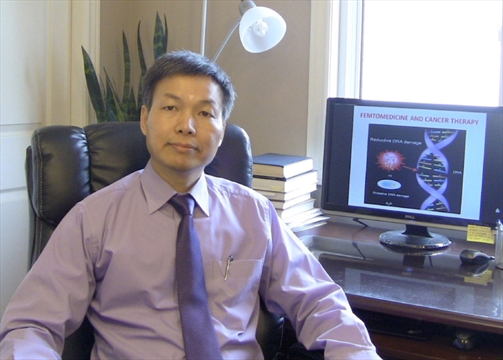 WATERLOO — A Waterloo researcher discovered promising new molecules that targets cancer cells while sparing healthy cells.
"It can kill the cancer cell and protect the normal cell," said Prof. Qing-Bin Lu, from the University of Waterloo's faculty of science.
"We feel this is quite exciting."
Not only are healthy cells protected, but the molecules identified by Lu and his Waterloo team are not toxic, avoiding the terrible side-effects of cancer drugs used today.
"It's really amazing," said Lu, who has been working on this research for nearly a decade.
Studies with cultured human cells and on rodents show the new molecules are effective against a range of cancers. Seeing the "nearly perfect effect" in preliminary research, Lu hopes to start clinical trials soon.
"Potentially this can help many cancer patients," Lu said.
The discovery is based on fundamental research Lu did into understanding the molecular mechanisms that cause cancer, starting with the very moment DNA in a cell becomes damaged. DNA damage leads to mutation, and then cancer.
"Sometimes the fundamental research can lead to practical applications," Lu said.
He used a technique traditionally for studying chemical reactions on a molecular level, in which an ultrafast laser takes a series of rapid snapshots of molecules as they interact and change structure. With this tool, he teased out the mechanisms of the disease, as well as looked into how radiation and chemotherapy work on a variety of cancers.